We are trying to integrate Shopify Payments with Moqui and are running into an odd issue. When
I was testing the cancelation of an order, each time I tried to "Close" or "Un-Approve" the order in an attempt to cancel it, nothing happened. I checked the logs and I didn't see any errors, just a few warnings and then nothing.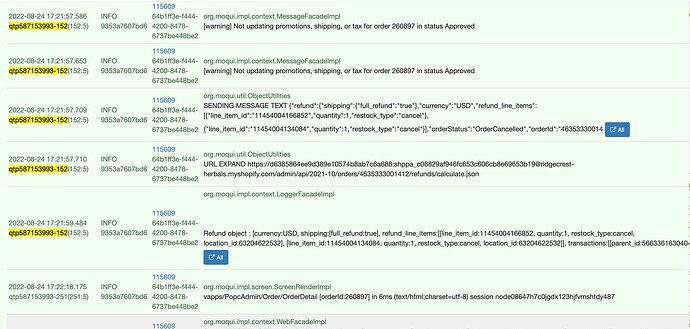 It seems like the service is not even being called (to cancel the order). We were wondering if perhaps the artifact might only record when the service finishes, is that the case?
We looked into how to track transition hits, and this is what we see from the cancelOrder transition


The other thing that we can see is that after trying to run the cancelOrder transition we get a message notification saying "could not connect to server".
We have tried other transitions such as alter quantity in quick items and same thing happened. The page was frozen for a while, and then got a notification that read "could not connect to server" after reloading the screen.
Anyone have any ideas? We are stumped.