Objective: Setup an invoice for a Project.
Steps:
Create a project using HiveMind Admin's New Project in the Find Project Screen without a client and vendor (because they weren't setup properly yet.
Add the vendor status to an existing party with HiveMind Admin's Edit Party
Create a client party with the Add Client dialog in Find Client
Add the client and vendor to the project
Get stuck trying to do the last step.
Problem:
In the EditProject.xml screen, the client and vendor parties do not appear.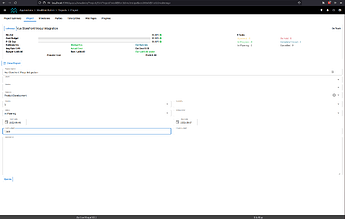 Problem's Reason:
To actually find a party, you need to type in the exact party id (see searchPartyList transition) or type in identifying information for a party with a roleTypeId:'Customer,CustomerBillTo,OrgInternal'. There's no obvious information about what you need to do especially when the search cache hasn't updated (which is why I created this in the first place).
Solutions:
Have field display some text in the field before typing anything telling the user what to type in
Have similar information to

#1

displayed somewhere else